Rick & Scope at the Messier Marathon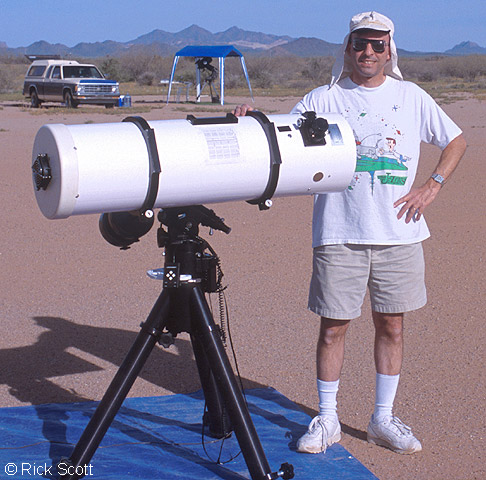 Here I am with my Lurie-Houghton telescope at the Messier Marathon sponsored by my club the East Valley Astronomy Club. We hold this event at a dark sky location about half way between Phoenix and Tucson in Arizona.

This particular gathering was unusual in that there were three Lurie-Houghton telescopes in attendance. This was probably the largest gathering at any time of this telescope design anywhere. The other LH scopes there was Mike Spooner's fraternal twin to mine and Torsten Clay's 8" f/4 that he had just finished. Roger Cerigoli of Tucson made the optics for Torsten's scope.

This photo was taken 24 March 2001 with my Olympus OM-3 and a 40mm f/2 lens with the help of Mike Spooner.
---
Lurie-Houghton Telescope Home Page
Rick Scott's Natural Images Home Page
Updated: 7 October 2001